Dr. Jarosewich attended the Ohio Student Mobility Project: Cleveland Discussion on February 6, 2013 at the Westfield Insurance Studio Theatre at the Idea Center at Playhouse Square. The Fordham Institute, Nord Family Foundation, and Community Research Partners convened this public forum in Cleveland to discuss the implications of the research for northeast Ohio's school districts, charter schools, and communities.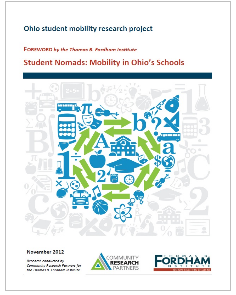 Read more about the Ohio Student Mobility Project and download the report at http://www.edexcellence.net/publications/student-nomads-mobility-in-ohios-schools.html.
Censeo Group is excited to launch a new website that highlights the skills of our team members and the services that we provide.  We will be adding new publications and research to the site regularly and we are working on a blog that will highlight the impact of evaluation for foundation, nonprofit, and educational clients. Look for it in the coming months! Contact us at info@CenseoGroup.com to learn more about how we can help you with your evaluation and research needs.