Trained as a school psychologist, Dr. Jarosewich is pleased to be working as the external evaluator for Martin County Schools' five-year School Climate Transformation Grant, ACHIEVE: Martin County. Located in rural eastern Kentucky, the school district will implement a Positive Behavioral Intervention Supports System (PBIS) at Martin County Middle School and at Sheldon Clark High School.
Leading the effort is the district's school psychologist Paul Baker, who is also president of the Kentucky Association for Psychology in the Schools (KAPS). Supporting implementation is Dr. Howie Knoff, creator of the Project ACHIEVE framework, a nationally recognized school effectiveness and school improvement program that the U. S. Department of Health & Human Service's Substance Abuse and Mental Health Services Administration (SAMHSA) has designated a National Model Prevention Program.
In creating the evaluation framework, Censeo Group has relied on resources from the Positive Behavioral Interventions and Supports OSEP National Technical Assistance Center. The following resources may be helpful to you in planning your STCG evaluation:
• SCTG Webinar – YouTube video of Designing Evaluation Plans and Reports
• Tool to assess implementation fidelity – SWPBIS Tiered Fidelity Inventory V2.1
• A series of evaluation briefs to help support your work.
We are experts at preparing proposals for federal grants and at implementing SCTG grant evaluations. We look forward to working with you. Please contact us for further information.
We are excited to be working with Dr. Susan Metz, Director of Diversity and Inclusion at the Stevens Institute of Technology in New Jersey, and Dr. Sheryl Sorby, Professor at Ohio State University and Professor Emerita of Mechanical Engineering–Engineering Mechanics at Michigan Technical University, as the external evaluator of their ATE project. The goal of the project, Adapting Tested Spatial Skills Curriculum to On-Line Format for Community College Instruction: A Critical Link to Retain Technology Students, is to demonstrate that spatial skills curriculum materials used successfully in four-year institutions of higher education can be adapted and effectively used at the two-year technical college level. The team is also researching the impact of using online materials delivered through iPad activities.
Partnering in this project are Del Mar College (Texas), McHenry County College (Illinois), Tidewater Community College (Virginia), and Tunxis Community College (Connecticut). Students from various departments and programs at these four institutions will participate in targeted spatial skills workshops to increase their ability to visualize, manipulate, and solve 3D application problems.
We will post project updates and share information about effective evaluation processes for technical education, ATE, and community college efforts.
If you are preparing a proposal for an ATE grant, contact us. We'll be glad to discuss your project and help you to prepare a rigorous evaluation plan for the proposal.
It's time again for the annual meeting of the American Evaluation Association (AEA). We're looking forward to sharing our work and learning from colleagues. Join us bright and early on Thursday morning for a panel with Kirk Knestis from Hezel Associates, Jeni Corn from the Friday Institute for Educational Innovation at North Carolina State University, and Rita O'Sullivan from EvAP, University of North Carolina. We'll be discussing "Adding 'Value' to Evaluation in Educational Settings: Opportunities for Evolving Roles of Evaluators in an Education Research and Development Paradigm". Dr. Jarosewich will be discussing how evaluators can support dissemination of project materials and instructional.  You can download a copy of her presentation slides here: AEA_2014_Jarosewich_Dissemination presentation.
We'll be tweeting about the conference using hashtag #eval14.
The Ohio Program Evaluators' Group (OPEG) hosted a fabulous fall conference in the Cleveland, Ohio area on November 8th, 2013. Typically the meetings are held in Columbus and it was a treat to have the opportunity to network and talk evaluation with staff, evaluators, and funders from Northeast Ohio.
The title of the program was Program Evaluation: The Road to Better Programs and Increased Funding! The sessions were intended to help staff members of nonprofit organizations learn how to take on the role of evaluator in their organization; conduct a needs assessment, create a logic model, collect data, and manage an evaluation process; and quantify and report evaluation results.
My contribution to the day's agenda was a session on presenting evaluation findings. In preparing the presentation, I dove into evaluation journals and literature and also into literature from the business world. The guidelines offered by business writers – to keep the purpose of your writing in mind before you begin and to write clearly and succinctly – is also good advice for evaluators. I also relied on the work of our evaluation rock star friends, Stephanie Evergreen, Ann Emery, and Kylie Hutchinson, to provide the group with references and resources. And thank you, Johanna Morariu of the Innovation Network, for letting me lug home enough copies of the State of Evaluation 2012 Report, from the AEA conference so that the group could see an innovative report and discuss how they could adapt similar design and reporting principles in their work. The designers and artists in the group contributed to a lively discussion.
I hope that the conference was useful to everybody who came. You can download my slides here and take a look at the tweets from the day at #OPEGFall13. I'll keep you posted on the call for proposals and details about the OPEG 2014 Spring Exchange.
We're looking forward to meeting with colleagues and sharing our work at the annual meeting of the American Evaluation Association (AEA). Join us for two conference sessions that highlight a few lessons learned over the past year. We'll be tweeting about the conference using hashtag #eval13.
Strategies and Technologies to Manage Complex 21st Century Evaluations
Panel Session 40 to be held in Suite 7101 on Wednesday, Oct 16, 4:30 PM to 6:00 PM
This session includes a set of presentations about innovative technologies and methods to coordinate and manage evaluations to allow new staff to easily take over project management duties, collect information through a data portal and triangulate observation and quantitative data in a statewide evaluation, apply social network analytic methods, and use e-learning tools to create logic model training for a nonprofit organization. Dr. Jarosewich and co-author Stephanie Fairchild will discuss "Strategies and Technologies for Project Management in Multi-Site Program Evaluation Projects".
How to Create Infographics to "Tell" Evaluation Stories
Demonstration Session 459 to be held in Lincoln East on Friday, Oct 18, 8:00 AM to 9:30 AM
"Telling" evaluation stories visually can be a powerful way of communicating findings with stakeholders. In this demonstration, Dr. Jarosewich will join Ginger Fitzhugh of Evaluation & Research Associates and David Fetterman of Fetterman & Associates to show how to use several widely available software programs (including Illustrator, Word, Excel, Visual.ly, easelly, infog.am and Pikotchart) to create infographics, which summarize bite-size amounts of data in a compelling visual manner, and interactive data visualizations, which allow the user to sort and analyze data. The presenters will also explain some of the principles behind the design of infographics and data visualizations. All three presenters recently participated in a MOOC (Massive Open Online Course) on Infographics and Data Visualization taught by Alberto Cairo and sponsored by the Knight Foundation. The presenters will walk through the process they used to conceptualize and create their final projects for the course, including an infographic about the membership of the American Evaluation Association and an infographic presenting survey response rates in a longitudinal study.
Recently Jan Noga, Independent Consultant in Program Evaluation, posted the following
invitation on LinkedIn about the informal Buckeye State happy hour at AEA.  Join us if you can!
Going to AEA in Washington, DC? Want to run into other folks from the Buckeye State while you're there? So do we, so we're putting out a general invite for happy hour in the TDL Bar in the Washington Hilton (on the lobby floor) on Friday, October 18th starting at 6 pm. AEA's reception and silent auction will also be that night. It's in the Hilton as well and runs from 6:30 until 8.
You can be a full-on AEA social butterfly and flit from happy hour to reception and auction, you can hang with fellow Ohioans, or you can use the chance to link up with others for dinner – it's up to you, no strings, no RSVPs. Tania Jarosewich and Jan Noga have agreed to grab a corner at the stroke of 6 p.m., so join us and see who else made the trek from Ohio to DC this year. Here's the skinny…
What: Informal Buckeye State happy hour at AEA
When: Friday, October 18th, starting at 6 pm
Where: TDL Bar in the lobby of the Washington Hilton
RSVP: Nope, come if you can and we'll miss you if you can't
Cost: Up to you, see you there!
Have you seen the new publication from Grantmakers for Effective Organizations (GEO), Cracking the Network Code? It describes four principles of a network mindset, which is important for grantmakers who are working with and through networks.
I wanted to share with you a few additional resources for evaluating network functioning. The first is an article that Nushina Mir of the Bill and Melinda Gates Foundation, Linda Simkin of Action Research Associates, and I co-authored for the Foundation Review. The article, entitled Measuring Dimensions of Network Functioning: The KnowHow2GO Network Survey, appears in Volume 5, issue 2 of the publication. The article describes a network survey that Linda and her colleagues at the Academy for Educational Development created for Lumina Foundation's KnowHow2GO college access initiative and how we used the tool in the KnowHow2GO evaluation. The network survey, which we think can be adapted for networks in any content area, is available from the National College Access Network (NCAN).
You can read a blog post that Linda and I wrote for the AEA365 blog about the survey and members of the American Evaluation Association (AEA) can watch a recording of an AEA Coffee Break webinar about the survey.
We hope that you find the publications and webinar interesting and helpful for your work building, supporting, or evaluating networks.
If you are a nonprofit organization in the Cleveland area and haven't yet visited the Foundation Center-Cleveland, consider checking out their website or stopping by (1422 Euclid Avenue Suite 1600, Cleveland, Ohio 44115) to take a look at their resources and meet their staff.
The Foundation Center-Cleveland is one of five library/learning centers operated by the Foundation Center, a national nonprofit organization headquartered in New York, whose mission is to strengthen the nonprofit sector by advancing knowledge about U.S. philanthropy. The Foundation Center regularly offers free classes to learn about key components of writing a proposal to a foundation. I had the opportunity to share information about the elements of effective evaluation sections for grant proposals during the April class.
You can download a copy of the presentation here: Program Evaluation Basics_Censeo Group
Key to effective evaluation planning is including evaluation components throughout the lifetime of a program. Needs assessment can help you engage community members and stakeholders in planning. Logic modeling conducted during the planning stage and reviewed over the course of a project, can help to clarify how program design will lead to expected outcomes. Conducting ongoing formative evaluation helps to understand program implementation and provides information for improvement. Summative evaluation, conducted at or near program conclusion, examines outcomes, demonstrates accountability to funders and other stakeholders, and provides a way to share information about your work. If a funder does not provide a template for an evaluation plan, consider describing each of the following in your plan: how you will engage stakeholders in the evaluation process, a description of your program elements, the evaluation design that you will use, data collection instruments, the process for data analysis, and how you will use and share lessons learned in your evaluation. These elements let a funder know that you will systematically examine your efforts to ensure effective program implementation and outcomes.
Dr. Jarosewich attended the Ohio Student Mobility Project: Cleveland Discussion on February 6, 2013 at the Westfield Insurance Studio Theatre at the Idea Center at Playhouse Square. The Fordham Institute, Nord Family Foundation, and Community Research Partners convened this public forum in Cleveland to discuss the implications of the research for northeast Ohio's school districts, charter schools, and communities.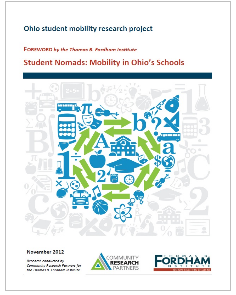 Read more about the Ohio Student Mobility Project and download the report at http://www.edexcellence.net/publications/student-nomads-mobility-in-ohios-schools.html.
Censeo Group is excited to launch a new website that highlights the skills of our team members and the services that we provide.  We will be adding new publications and research to the site regularly and we are working on a blog that will highlight the impact of evaluation for foundation, nonprofit, and educational clients. Look for it in the coming months! Contact us at info@CenseoGroup.com to learn more about how we can help you with your evaluation and research needs.